Home Equity Line of Credit
Put the equity in your home to work — to pay for repairs and improvements, consolidate high-interest debt, cover college tuition or pay medical bills. With a KeyPoint HELOC, you can access the funds you need at a low rate with no annual fees or early termination fees.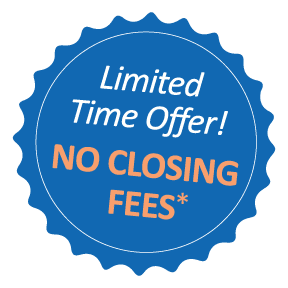 *Requires $100,000 draw at closing and the draw must be outstanding for at least sixty days. **APR = Annual Percentage Rate. Rates accurate as of 1/1/20 and subject to change, 12-month fixed intro APRs from 3.25%-3.75% and 3-year fixed intro APRs from 5.00% to 5.75% indexed variable APRs from 5.00% to 5.25%. Introductory and indexed APRs available to approved applicants are subject to change at any time and may depend on credit history, loan-to-value ratio, and other factors we may lawfully consider. All loans subject to credit approval. "No fee" offer applies to fees associated with loan origination and requires $100,000 minimum opening advance. Origination fees will be reduced by 50% with an opening advance of at least $25,000 up to $100,000. Loan origination fees estimated to be between $950 and $1,500. To qualify for fee waiver, complete application must be received by 12/31/2019 and line of credit must be opened with initial advance taken by 1/31/2020. Borrower may be required to pay fees not directly associated with loan origination, such as but not limited to fees charged by other lenders or county recorders in connection with payoff of their loans and reconveyance of their security interests, homeowner's association fees, and wire transfer fees.
Home Equity Line of Credit

| Introductory Period for Fixed Rate* | Initial Fixed Rate | Annual Percentage Rate (APR) |
| --- | --- | --- |
| 12 Months | As low as 3.25% | As low as 3.25% |
| 3 Years | As low as 5.00% | As low as 5.00% |
*After Introductory Period for Fixed Rate, rate is variable, based on Prime Rate as published in The Wall Street Journal Money Rates Table ("Index") plus 0%. Your rate may be higher depending on your credit score at time of application.
Equity lines are available for owner-occupied single-family, townhomes, condominiums (subject to additional restrictions) and 2-unit properties (1 unit must be owner-occupied). The lowest rates as shown require (a) $25,000 minimum line amount, (b) 75% or lower loan to value (LTV)/combined loan to value (CLTV) ratio, and (c) a minimum credit score of 760. The floor rate is equal to the Index published at time of loan application. The lifetime maximum variable APR is 16.00%. Equity lines have a 10-year draw period and a 20-year repayment period for a total term of 30 years. Interest only payments during 10-year draw period. Fees to establish an equity line typically range from $950 - $1,500. Equity lines are subject to an Exterior Drive-By Appraisal. The Member can choose to pay for a full appraisal if desired. Line amounts above $250,000 and/or above 75% LTV/CLTV require a full appraisal instead of an exterior appraisal. The fee for a full appraisal typically ranges from $525 - $750. An appraisal may be subject to additional fees for certain property characteristics, including but not limited to, acreage, large home size, waterfront and/or additional amenities. No annual fee or early termination fee. All loans subject to credit approval. Rates and terms subject to change without notice. Maximum line amount is $500,000 and maximum cash in hand is $250,000.

Rates accurate as of 1/1/20 and subject to change.